The new SCL Facebook landing page is live!
SCL had a Facebook Page since launch, but never a proper landing page until now. This Facebook Landing Page ensures visitors don't just arrive on a wall, but on a purpose designed page that has branding and a marketing message.
It is a relatively simple and non-flashy page, but has the 'like gating' functionality, which means users see a different landing page if they haven't liked the page, compared to those that have liked the page. This was simple to set up, with creation of a basic Facebook app, linking to a specially modified WordPress site, perfectly designed to fit into the Facebook canvas. It also has a trial of 'friend gating' which means some content is only revealed once a user has liked the page, and at least a pre-set number of their friends have too… will see how effective the new Facebook landing Page  it is!
Check it out! www.facebook.com/SearchEngineConsultancy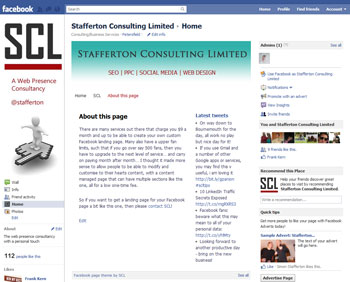 If you want a Facebook Landing Page like this for your company, we can build it for you in a very cost effective manner, and you will be able to edit the content at will. Get yours now!