Stafferton Consulting are based in Hampshire, close to the city of Southampton. We focus on SEO, hence this article about SEO Southampton and "SEO agency Southampton".
Search Engine Optimisation has been around for quite a while now and seems to be getting a more and more popular service for website owners to use. In the early days of SEO – the wild west if you like, it was easy for those that knew how, to shoot any website to the top of Google. From 2004 when we at SCL first started testing SEO methods, up until around 2011, it was all about mass volumes of link building and over optimisation. Of course, this approach meant any website, no matter how poor a user experience or how weak the content was, could rank highly. Then in February 2011, Google started rolling out their biggest algorithm update to date, Panda. It was said, by Google, to have impacted up to 12% of search results.  Then just over a year later in April 2012, Google started rolling out another major update called Penguin. Many iterations of these updated have happened and continue to happen to this day. The goal of these updates? To improve the quality and relevance of the organic search results.
Quality over Quantity
The ongoing updates from Google have meant that the results have largely been cleaned of low quality, spammy sites. Yes, a few pop up now and again, but they don't stay that long. All of this means that cheap SEO tactics no longer work. More recently techniques that used to be seen as quite acceptable have slid into the 'spammy' category, such as guest blogging. On top of this Googles guidelines essentially say, the way to do SEO, is not to do SEO. All of this resulted in critics and bloggers alike stating that "SEO is Dead", that it doesn't work, that is a waste of time and money. But think about it… how does Google make around 95% of their revenue?  You guessed it, Adwords. And who's pockets do Google want every business owner and website owner to line? Theirs. This is where smart business owner have started to understand… as long as search engines that are not 100% full of paid results exist, SEO will continue to exist. In fact, more than exist it will continue to thrive!
Web sites that are not engaging in modern SEO do not see the traffic they may have done in the past, and their competition is overtaking them. Without traffic, a website is pretty worthless. Paid traffic continues to get more and more expensive, and with the rapidly changing  Adwords platform introducing new features on a weekly basis, it takes a qualified expert to ensure any campaigns give at least some return. The real value for websites comes when they can rank highly for their target keywords, thus bring more traffic for free, which in turn increases the amount of online goals that are met – be that sales, enquiries, sign ups etc.
Here at Stafferton Consulting, we provide expert SEO services in Southampton to business that we think we can help. This is not all businesses, and we do have a few basic requirements that need to be met before we can engage. See more here. It is crucial that you choose the right SEO agency to work with… there are far too many out there that promise the world and deliver nothing. We prefer to focus on true ROI. We see ourselves as digital movers… we take you from a bad neighbourhood and move you to a much better area – at the top of Google. This is where the money is. Using our proprietary methods, we help you outrank your competitors and gain more website visitors. But, don't just take our word for it. Check out some of the glowing testimonials below, taken from my Linkedin Profile: https://uk.linkedin.com/in/stafferton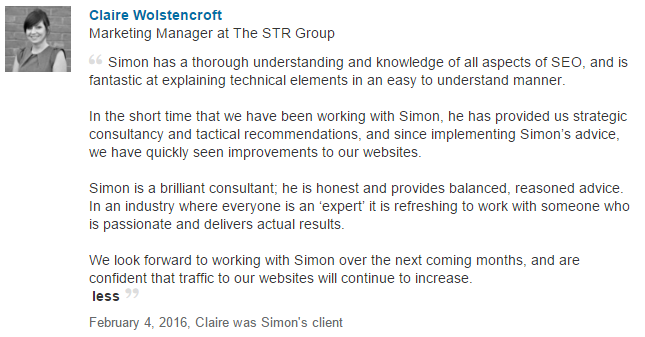 One of our favoured places for meetings with clients in need of SEO, Southampton has a great range of venues, from the small and intimate to the lavish and grand. It may be at a coffee shop, a Hotel lobby, or one of the corporate meeting venues at Lakeside.
Our primary offices are in Petersfield, but for SEO Southampton focused meetings we usually use:
Ocean Village Innovation Centre,
Ocean Way,
Southampton,
Hampshire,
SO14 3JZ